A leader in the sale, distribution, maintenance and service of heavy commercial vehicle parts, YonMing Group started as a humble self-proprietorship with small capital and office in 1979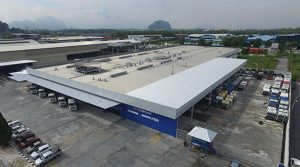 Three short decades later, it has grown to a multinational group of companies with over 47 branches, over 600 staff and a local and international supply chain. Networked across Asia, YonMing Group has a strong presence in Malaysia, Singapore, Hong Kong, China, Indonesia, Thailand, Vietnam and Myanmar.
YonMing Group has achieved many milestones in the heavy vehicle industry in Malaysia, and among those accomplishments are:
Being the first in the private sector to introduce fully air conditioned sales counters as well as using computerised systems in the 1980s.
Opening more branches, obtaining ISO certification and entering the maintenance service sector in the 1990s.
Venturing into used-truck sales, providing after sales service and carrying more distributor brands in the 2000s.
Appointed as the authorized distributor of Shacman Truck In Malaysia; Established the First Shacman Truck CKD assembly line, 24-hour breakdown Res-Q Team, 24-Hour Res-Q Call Centre, YonMing Academy, First 4S Centre in Nilai and ventured into ERP cloud-based system in the 2010s.
Today, due to YonMing Group's emphasis on continuous improvement, future growth is foreseen to be fast-evolving and innovative, with new truck sales, after sales service cooperation with China vehicle manufacturer, more OpenConcept stores, new 4S centres, and Go Green campaign.
Priding itself as a one-stop solution to fleet and individual owners, YonMing Group sets the pace for market by adhering to a strict "no imitation is our policy" guideline and maintaining a quality system.